When you start a room you will be asked if you want to update your reception list and will be presented with the following screen.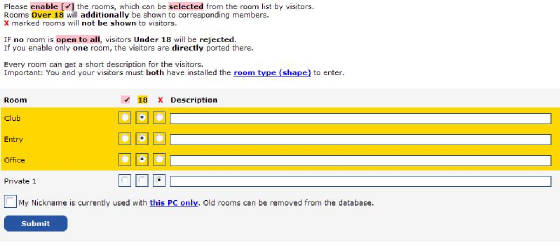 You will see on the left hand side a list of your rooms. Beside each room are three columns headed with a tick, 18 and a cross.
The tick represents rooms open for all ages.
The 18 is for rooms open for adults only.
The cross shows the room is closed.
Click on the appropriate column for your room to define it (shown by a dot in the circle).
Next we will need to do a lot of loading and cleaning, we will do the easy part first, the Cleaning, Look for ROOM on the Icon page, to see which to use, Click on you ROOM, go down to CLEANUP ROOM and click it, you will have a window like the picture below.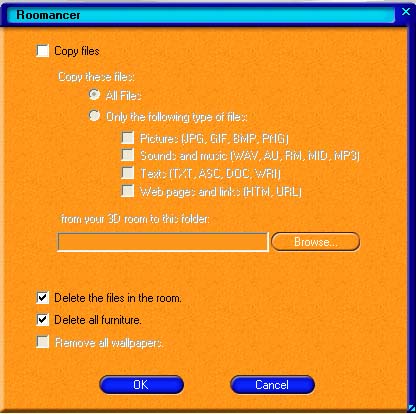 You will need to delete the furniture and pictures on the wall, the two will be all ready ticked, but if there is something you wish to keep untick what you want, but if you wish to delete an individual item there is another way to do this and will be explained as we travel along
Now you will need to go to sites to load a few furniture's etc to furnish your room, I have made a page for a few of the sites, also how to load them on to moove