I have done it so that if you click on each of the pictures you will see the actual size.
Well so far we have done a lot, but there is more, and as you get to know Moove you will find that you slip in to doing things automatically, now we will look at Posture's, OK not the sort with the book on your head , and walk a straight line, movements to make your act do.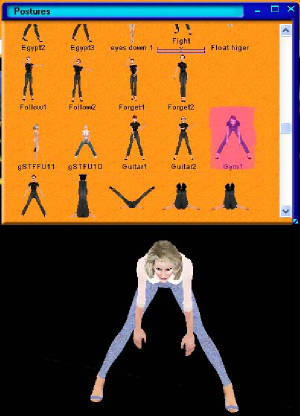 Click on the icon for ACTOR, then on POSTURE, a floating window ill open I have clicked on one, highlighted in Pink, if you look at all that's in this you can make your actor do a number of things.
After you have got to know what each posture can do you will soon want to be making your own, I will warn you now, if you like things to be perfect it is a long and tedious thing to get smack on, but if your just wanting to do different things hey have a go.
Click on EXTRAS,

then down to

TOOLS

After you click on TOOLS, another

Window will open you need to click on

POSTURE EDITOR,

( I usually like to keep my act to the right at this point)

A window will open . this is the

Posture editor window

at this point all panic, please do not

You will see a drop window click on this, there are all the parts of the body that can be altered, there are two ways to alter these, one is to actually click on the part you wish to alter, the other is to put the mouse pointer over the part and right click it.

Here you will see three controls, FLEX,TWIST,PIVOT. each do as they state, please play around with these, and see the little picture ( or the actor I hope you can see ) parts of the body move around, I could give a long lesson on what to do and how to do it, but in the long run it is best for you to learn, play with them and see what can and cannot be done.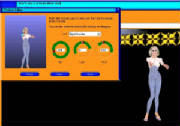 I thought I would add this one picture so you can see me Zombie ...lol, its fun so go ahead and have a go