Well now we are doing another form of Actor/doll we all have our own favorite names for them, but this is about those Red Bots ,and you thought it was all green ones lol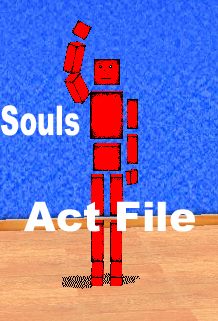 There two ways to have this Red Bot.
One is souls, that means the person who is visiting you has a diffrent Soul and not one of Mooves, you will need it, so they will have to pass it on to you, oh and to make sure you up date the __SoulList, this is how you get to it;
C:\moove
The list is in txt format all you have to do it type it in there
And the other way to see that red bot is with an ACTFILE
I will be trying to show you what and how to load this.
*Blue2* has also pointed out that if you do not have the soul you can also see the default soul for that Act.
In other words if you have a soul for a sexy walk, and the other person See's you , it will be the Moove basic default soul, a plain walk :( sighs sorry