We have now thought of what to do and what we would like, I will go over every thing that's needed for making the walls Floors Ceilings and how to furnish your room from now onwards, I hope I will be making it easy to understand.
For this lesson I will be using the Public Salon, as this is the one you will have and wish to alter.

First we will need to DELETE all the Pictures on the wall and all the furniture so we will need to clean up the room as shown in the picture on

Icons and names

look at EDIT , once we have deleted all we need now the fun part, decorating the walls.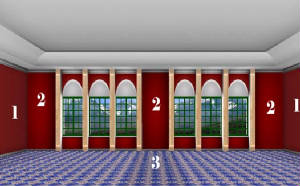 I have numbered the places we can paint, well what I should say is to add the walls we have made, also the wall behind you, but always remember what ever you paint for your walls will stretch so a little picture will stretch and this is where we have to waste time in trying everything we do, I have made an easy wall paper for this tutorial. But the floor will be tiled, you will see why as we go along.
Click on ROOM go to ROOM PAINTER(1)click, go to ROOM PAINTER FLOATING BOX(2). I think you will find the window self explanatory, make sure that the slide bar for REFLECTION is to the left ( later I will try to explain a bit more about that bar)
Click on picture to see larger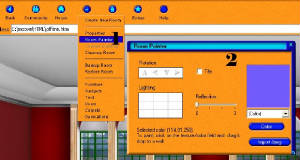 Click on picture to see larger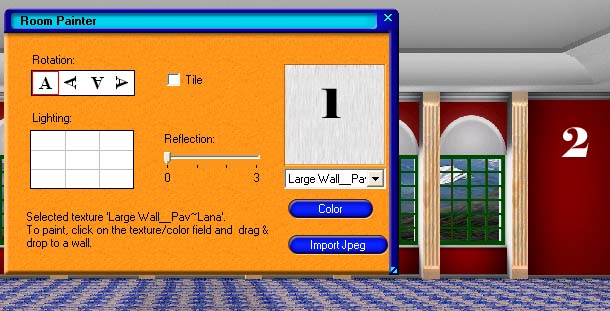 To get the painting on your wall, click the small picture (1) of your painting Box (2), a paint picker will appear, right click and it will change to a small Brush, keeping the right mouse pressed ( now you will see your mouse pointer) drag and drop on to the wall.
Make sure the long walls are 1600x600pxl and the small walls 432x600pxl, a few have found these do not look right I am sorry but I have not as yet found out why .
Click on picture to see larger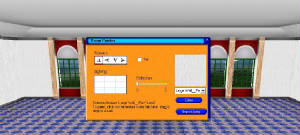 Now the room should look like this, but the floor needs doing, we need to have our pxl set at 128x128pxl
This is how room will look with all the walls and floor painted ( as we call it), but oh the windows, well sorry they always will stay like that , but we can cover it over other ways.
Now we have to put Furniture, Gadgets, Decorations,